If any investigators in northern Michigan who'd like someone to tag along… Hmu!
Activity Points
32
/
Points
About Me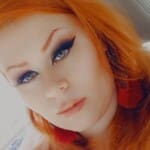 Veronica Smith
Witchcraft, Clairtangency, and an overall obsession with all things metaphysical and paranormal
I'm here hoping to find a team to research with! What I lack in special equipment I make up for in enthusiasm and openness. I've had quite a few paranormal experiences and am ready to seek some out intentionally.