Mysteries of the General Asahel Stone Mansion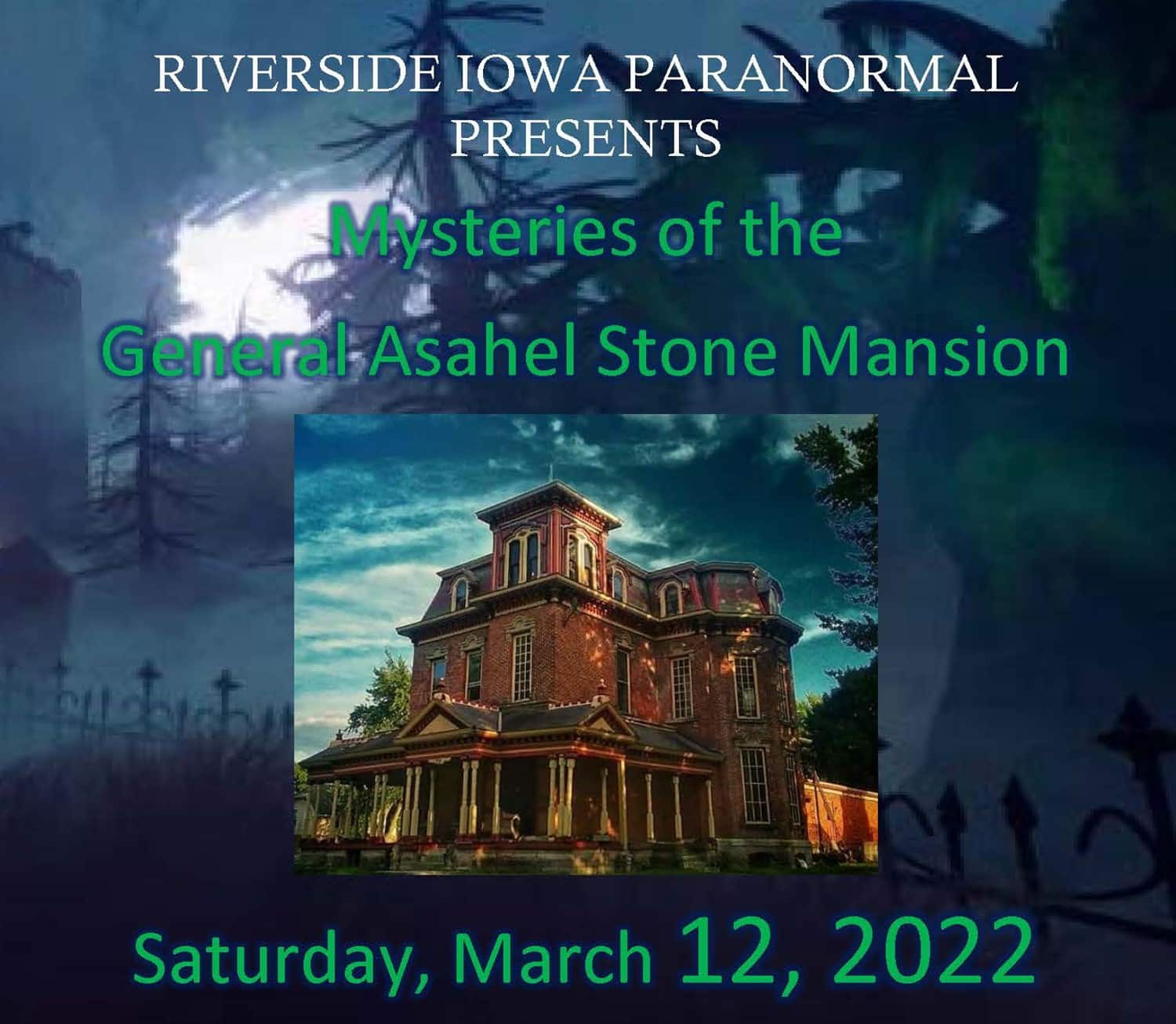 Date/Time
Date(s) - March 12, 2022 - March 13, 2022
7:00 pm - 7:00 am
Location
Gener Asahel Stone Mansion
---
Join the Indiana Chapter of Riverside Iowa Paranormal for an event at the General Asahel Stone Mansion.
The stone mansion was originally built by General Asahel Stone in 1872 and has gone through several owners, and is now maintained and owned by Dann and Richard Allen of Save the Old Properties. On March 21, 1979 the home was added to the National Register of Historic Places.
A very unique feature of the 7,000 square foot mansion is the third floor windows. General Stone enjoyed stargazing and had the third-floor windows extended beyond the house to have a clearer view of the night sky. On November 7, 1985, a previous owner opened a restaurant in the home called the "Stone Mansion Inn, Inc".
Due to this being a newer haunted property open to the public, there is still A LOT to be discovered. So far, this is what has been seen and heard:
● General Stone himself is said to appear at times
● Seen on the staircase is Lydia Stone
● A young girl named Wendy that wears a yellow dress
● On the top floor Lydia's brother John is said to be seen, he lived on this floor
● Male voices mumbling
● A man cursing
This overnight event includes:
7:00 p.m. EST Tour of the Mansion
Investigation begins at 8:00 p.m. EST with full access to the mansion until 7:00 a.m. EST.
Overnight stay. Be sure to bring your sleeping bag.
Get your tickets on Thriller Events
http://www.thriller.events/tickets/mysteries-of-the-general-asahel-stone-mansion-230750